Welcome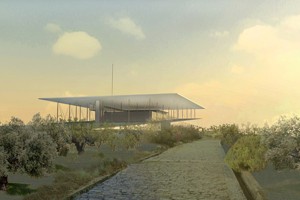 EB-Architects is an architectural practice that provides design and consulting services for the construction industry, specializing in Building Information Modeling (BIM).
In BIM PROJECT blog we aim to share with you our experiences, techniques, obstacles, and achievements in the field of BIM driven projects.
I cannot resist sharing with you my excitement about the recent involvement of EBArchitects in a joint venture with Elytron, in the construction of the National Library of Greece (NLG) and the Greek National Opera (GNO), as well as the creation of the 170,000 m² Stavros Niarchos Park, designed by Renzo Piano Building Workshop.
You can get more information on this fascinating project in the following links:
http://www.youtube.com/watch?v=yO0UQNl4JbM
http://www.snfcc.org/the-national-library-of-greece/overview/
The EBArchitects-Elytron JV is to provide architectural and BIM services to the contractor (a joint ventrure between Impregilo S.A and Terna S.A).
EBArchitects in particular is responsible for the BIM related services that include:
Development of the architectural and structural elements in the Revit model, as provided by RPBW, to a LOD 300 state.
Modeling of all MEP elements of the main buildings utilizing Revit MEP.
Clash Detection and Coordination management utilizing Navisworks Manage.
Model Based Quantities Takeoff.
Production of Construction and Shop Drawings in Revit.
I welcome you all in BIM PROJECT!
We're really going to do our best to keep your interest alive, and to give back some of the valuable knowledge we gained over the years to the thriving BIM internet community.
Sincerely yours
No more posts
No more posts